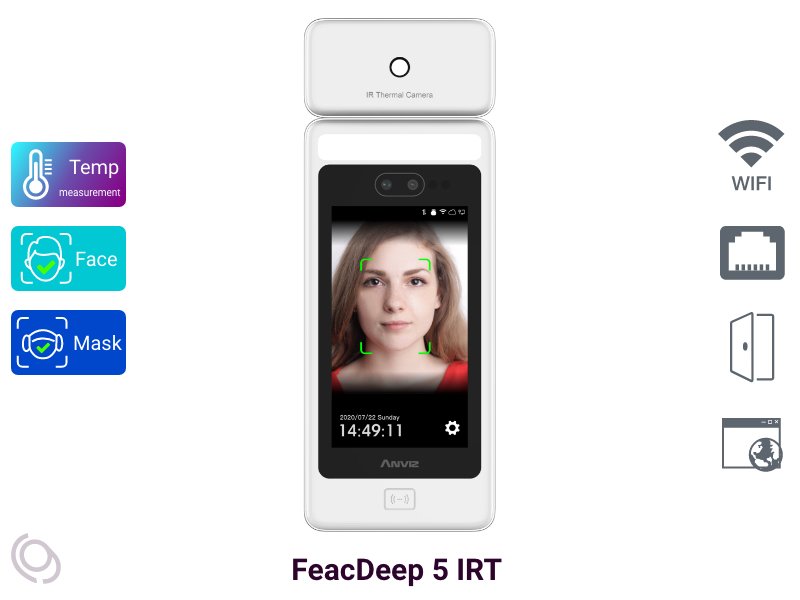 Dual Camera for Live Face Detection
Anviz's Dual Camera technology enables IR and visual face recognition with unique deep learning algorithm to achieve high accuracy and identify fake faces by photos or images.
FaceDeep 5 IRT is new AI-based face recognition and temperature screening terminal equipped with a dual-core Linux-based CPU and the latest BioNANO ® deep learning algorithm. Combined by the multispectral imaging technology through an infrared light camera and a visible light camera to ensure live face detection function. Widely adaptable to Various Conditions
With the verification of over one million faces around the world, FaceDeep has become one of the most accurate face recognition terminals suitable for various environments and conditions.
Model
FaceDeep 5
FaceDeep 5 IRT
Max.User
50,000
Max.Card
50,000
Max.Log
100,000
Communication
TCP/IP, RS232, Wi-Fi
I/O
Relay Output, Wiegand Output, Door Sensor, Switch
identification
Face, Password, RFID Card
Identification Speed
<300ms
Protection
IP65
Embedded Webserver
Support
Multi-languages Support
Support
Software
CrossChex
CPU
Dual-Core Linux Based 1Ghz CPU with Enhanced AI Computing Power
Cameras
Infrared Light Camera*1, Visible Light Camera*1
Dimensions{W x H x D)
88*190*16 mm (3.465*7.48*0.629 inch)
88*236*16 mm (3.465*9.29*0.629 inch)
Infrared Thermal Temperature Module
—
Temperature Range: -10~50 °C (14~122 °F)
Detection Distance: 30~100 Cm
Accuracy: ±0.3 °C (0.54 °F)
LCD
5″ IPS LED Touch Screen
Camera Angle Range for Verification
74.38°(Visual),67.57°(Infrared)
Identification Distance
< 2m (78.7 inch)
RFID Card
Supported with duel frequency RFID cards, 125KHz EM & 13.56MHz Mifare, DESFire
Humidity
20% to 90%
Operating Temperature
-30 °C (-22 °F)- 60 °C (140 °F)
Operating Voltage
DC12V 3A
| | |
| --- | --- |
| Weight | 1 kg |
| Dimensions | 1 × 1 × 1 cm |
| Interface | RJ45 Ethernet 10 / 100M |
| Identificate | Detect Mask, Facial + Temperature, Facial Recognition, RFID Card |
| Brand | Anviz |
YEEUU NEW K1 PLUS SMART K241 K221

YEEUU R2 FIDO SMART FINGERPRINT LOCK

YEEUU S1 SMART FINGERPRINT LOCK-STANDARD VERSION (S170)

YEEUU K1 SMART LOCK-PASSWORD